Are you preparing to visit Grand Cayman for the first time? One thing's for sure—you're in for a warm welcome and great hospitality. That's what Caymankind is all about!
At Sunset House, we're Grand Cayman's hotel for divers, by divers. So if you're visiting to make the most of the world-class diving in Grand Cayman, there's no better place to stay than right here with us.
We have catered everything to provide the complete vacation experience for diving enthusiasts. Check out our range of custom diving packages in Grand Cayman to see what's possible.
But we also provide non-diving packages; so even if you're not a diver, you'll still have an amazing stay at Sunset House!
For now, though, let's focus on our first-timer's guide to Grand Cayman Island. Scroll down to find practical local insights that can help you plan an unforgettable trip.
If you have any questions for us in the meantime, please get in touch for the answers you need.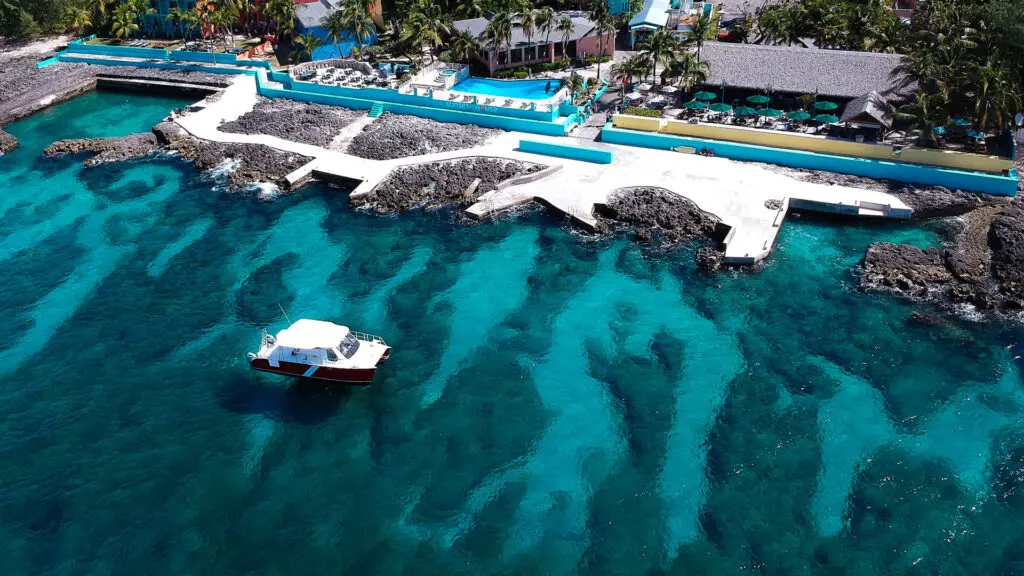 Where is Grand Cayman?
Let's start with the basics. Grand Cayman is located in the western Caribbean Sea, about 480 miles south of Miami, Florida.
It's the largest of the three Cayman Islands (Cayman Brac and Little Cayman are the others) and is famous for its crystal-clear waters, white sandy beaches, vibrant marine life, and incredible dive sites.
How to Get to Grand Cayman?
Getting to Grand Cayman is a breeze! Most visitors arrive by air at Owen Roberts International Airport, which has regular flights from various cities in the United States, Canada, and other Caribbean destinations.
Once you land, you're just a short drive away from the island's main attractions and activities on the West Coast.
Sunset House is only a 10-minute drive from the airport, so we're perfectly situated for new arrivals and departures.
Many visitors also arrive in Grand Cayman on cruise ships. These vessels drop anchor in George Town, the capital of the Cayman Islands.
And the good news keeps coming—we're less than a 5-minute drive from the Geroge Town Cruise Port!
Read our Grand Cayman Travel Guide for even more information about traveling to and around our island.
Explore Grand Cayman's Underwater World
When we say Grand Cayman has world-class diving, we aren't exaggerating. Our island is home to a staggering 240 dive sites, while all three Cayman Islands combined have 365.
Divers travel from all over the world to explore our beautiful underwater world. Just some of the sights include stunning coral formations, remarkable geological features, eerie shipwrecks, imposing walls, and a staggering range of fish and other marine life.
The USS Kittiwake is among the most famous sites. This ship was a US Navy submarine rescue vessel. But in 2011, it was purposefully sunk off Seven Mile Beach to create an artificial reef.
It immediately became a must-visit spot for divers! Check out our Kittiwake Grand Cayman dive to discover more about exploring this breathtaking wreck.
And there's plenty of great diving to enjoy right on Sunset House's doorstep too. You can dive the Sunset House Reef — our very own reef (with resident turtles, eels, and nurse sharks) for shore diving!
You can also dive the Mermaid in Grand Cayman, our much-loved Amphitrite statue.
We wrote the blog The Siren of the Sea Turns Twenty when she reached this milestone birthday in 2020. It's a fascinating look back over 20 years of Amphitrite.
Get Your PADI Diving Certification
Of course, if you want to enjoy diving in Grand Cayman, you must have the necessary qualifications. If you don't, the good news is that our diver's paradise is the perfect place to earn your PADI certification.
Our range of dive courses and training in Grand Cayman covers all ability levels, from beginners to seasoned enthusiasts.
Do you want to take your first steps into the world of scuba diving? Enjoy a sample experience before committing to a full course with a Discover Scuba Diving program.
From here, you can earn your certification by signing up for either the PADI Open Water Course or the Open Water Referral Course.
And once you're fully qualified, we have a complete range of advanced and specialty courses to help you become the kind of diver you want to be!
You Can Snorkel with Wild Stingrays in Grand Cayman!
Stingray City is one of Grand Cayman's most famous attractions. It's here that you can swim in the ocean with wild and friendly southern stingrays!
Located where the North Sound meets the Caribbean Sea, Stingray City is a series of sandbars that have formed in natural channels running through a coral reef.
The water here is shallow and crystal-clear, so all you need to do is disembark the tour boat into the water and meet the stingrays that call this place home.
The stingrays are comfortable with human contact and interactions, so tour experiences here are safe, fun, and unforgettable!
Check out Stingray City Grand Cayman Tours with Red Sail Sports to learn more about visiting this amazing destination.
Embrace the Laidback Caribbean Atmosphere
Grand Cayman is not just about adrenaline-pumping activities; it's also the perfect place to relax and unwind. We're a paradise island in the Caribbean Sea after all!
You'll find plenty of opportunities to kick back in a hammock, sip on a refreshing drink (such as Grand Cayman's very own Mudslide), and enjoy the beautiful ocean views.
Do you want to enjoy beach living while you're here? Well, you're spoilt for choice! There's the iconic Seven Mile Beach (more on that below), Spotts Beach, Smith's Barcadere, Rum Point Beach, and more!
And when you're hungry or thirsty, head to a beachside restaurant and bar and keep the relaxed vibe going.
Dining at Sunset House includes Seaharvest Restaurant and My Bar, both of which have been treasured spots for great meals and memories for decades!  
Visit One of the Best Beaches in the World: Seven Mile Beach
You can't talk about Grand Cayman without mentioning Seven Mile Beach. This world-renowned stretch of soft, white sand and crystal-clear waters consistently ranks among the top beaches globally.
Whether you're sunbathing, swimming, or taking a leisurely stroll, Seven Mile Beach is a slice of paradise you won't want to miss.
Stretching for 6.3 miles along Grand Cayman's west coast, Seven Mile Beach is so long that it has smaller beaches within it, such as Governor's Beach and Cemetery Beach.
Whatever beach experience you're looking for, you will find it here!
Discover a World of Mouthwatering Cuisines
Prepare your taste buds for a culinary journey like no other. Grand Cayman's food scene is a delicious blend of Caribbean, BBQ, seafood, Caymanian, international, and, of course, rum-based drinks.
Try local dishes like conch fritters, jerk chicken, and the famous Cayman-style seafood platter before exploring a whole world of incredible meals.
Our own Seaharvest and My Bar serve up a range of tasty seafood, international, Asian, and Indian dishes that will leave you wanting more!
In fact, the quality of our food often features in our reviews.
More Useful Information for First-Time Visitors to Grand Cayman
We've only scratched the surface of the things a first-time visitor to Grand Cayman should know before traveling.
So, to round off this guide, here's some more bitesize information that will help you when planning your trip:
Travel Documents: Ensure you have a valid passport. U.S. citizens don't need a visa for stays up to 6 months.
Language: English is the official language, so there's no language barrier to worry about.
Currency: The Cayman Islands Dollar (KYD) is the official currency, but U.S. Dollars are widely accepted.
Climate: Grand Cayman has a tropical climate, so expect warm and humid weather. December to April is the high season with milder temperatures.
Safety: The Cayman Islands are known for their safety, but still, be cautious and keep your valuables secure.
Transportation: You can rent a car, take taxis, or use public buses. Remember to drive on the left side of the road.
Caymankind: The locals, known as Caymankind, are incredibly friendly and welcoming. Embrace the island's relaxed vibe, and you'll feel like a local in no time.
Sunset House is the Perfect Base for Your Grand Cayman Stay
We hope this first-timer's guide to Grand Cayman Island has inspired you to book your trip. Everyone at Sunset House would love to welcome you to our beachside resort!
If you're still looking for that ideal accommodation, check out the diving and non-diving packages at Sunset House and browse the rooms you can choose from.
We're here to help you have a memorable stay, so please feel free to get in touch with us if you have any questions.