Answer a simple question about the siren in question and you might win a dive vacation for two to Sunset House.
Who has a stony stare, weighs as much as a vending machine and draws divers from around the world to bask in her beauty in the waters off Grand Cayman?
Amphitrite, of course.
Also the name of Poseidon's wife, that's the moniker of one of Grand Cayman's most famous underwater denizens—a mermaid statue just offshore from Sunset House dive resort that's celebrating 20 years drawing divers underwater to see her.
The statue, sculpted by Canadian sculptor, Simon Morris, was originally dreamt up by Sunset House in November 2000 as both a new attraction for divers and a way to ease the strain of underwater traffic on the dive resort's magnificent house reef.
Morris cast her with superior quality silicone bronze and used welding rod of the same material when he assembled the mermaid to avoid any future discoloration. Over the years since she's been down, Amphitrite has acquired her own ocean patina—not to mention an underwater following of thousands of divers from around the world who've come to pose for a selfie or portrait with her at 55 feet.
They come with tanks strapped to their backs, they free dive down to her depths and sometimes they even arrive with their own shimmering mermaid tails, too, smiling through their bubbles for a photo with the iconic statue. Some visitors even show up aboard a local submarine attraction that's been known to buzz the mermaid.
Amphitrite's rivulets of sponge-covered hair, her Grecian features, ample bosom and gently winnowing mermaid's tail all add to her photographic interest. The statue stands nine feet tall and looks particularly commanding when shot from below with a sunburst and beams of light filtering down upon her and her subjects through the water's surface.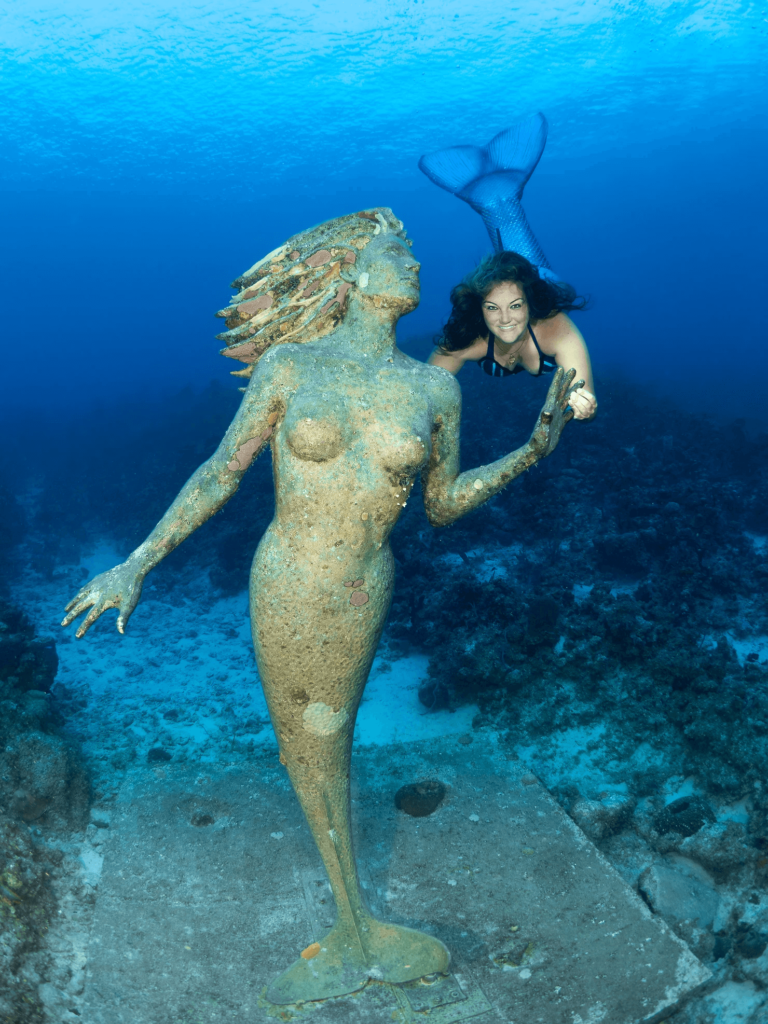 A naming contest was held when the mermaid was sunk, and Amphitrite won out over thousands of other name submissions put forth by divers and friends of the Cayman Islands.
Sunset House has dubbed 2020 the Year of the Mermaid. And the resort launched a contest to celebrate two decades since her sinking. From now until the end of October, visit Sunset House's website to answer a simple question that's already been answered in this article (Who was she married to?) and you'll be entered to win a dive trip to Sunset House. Follow the resort on Facebook and Instagram to be eligible to win.
And next time you're in Grand Cayman, of course, be sure to heed the siren's call.
Reaching Amphitrite is easy. Enter the resort's sheltered sea pool by giant stride or by descending a ladder right from the sidewalk. Then fin out along a sand channel (look for feeding eagle rays along the way) to reach the mini wall, which is the first wall you reach before you get to Grand Cayman's fringing (and deeper) main wall.
Fin across the wall and down to the sand on the opposite side and that's where you'll come face to face with Amphitrite—standing there in little cove, just as she's been for decades, protecting the house reef. You won't even have to ask her permission for a photo.
This article was written for ScubaDiving.com by staff writer Terry Ward.