A collaborative piece by Emma, TJ, Lisa, Lin, Maria & Grace – The Sunset House Dive Family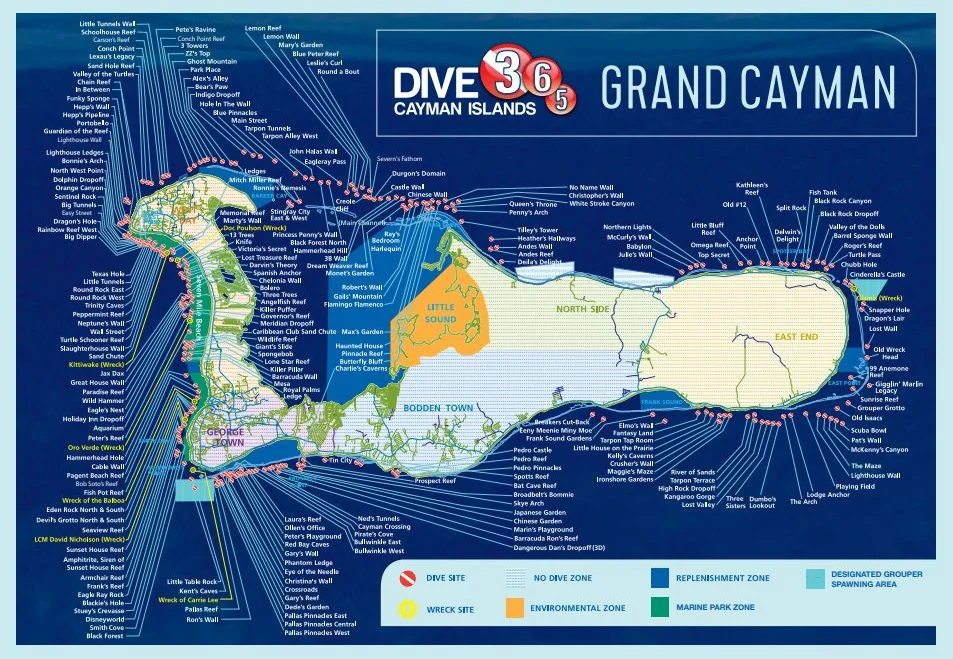 Did you know there are 365 dive sites across the three Cayman Islands, offering a new dive experience for each day of the year. The Dive 365 initiative, from the Cayman Islands Department of Tourism has highlighted the Cayman Islands' dedication to providing divers with more opportunities. The initiative aims to alleviate the environmental impact of recreational diving at more popular sites while providing divers the opportunity to explore new spaces.
Our tag line says it all – Sunset House, Grand Cayman's hotel for divers, by divers. And throughout the resort, not only at Sunset Divers, there are many of the 'Sunset family' who love to dive.
Here is a collection of our favorite dive sites from around Grand Cayman, the island we love and all call home. From the dive team at Cathy Church Photo and Video, we have Maria, Lin & Lisa. The Sunset Divers crew, of which Tanuj (TJ) has contributed. The hotel management team including, Emma from sales & marketing, also an instructor, who loves to join the guests on a dive when she needs an escape the office and finally the one & only diver from My Bar & Sea Harvest Restaurant, Grace.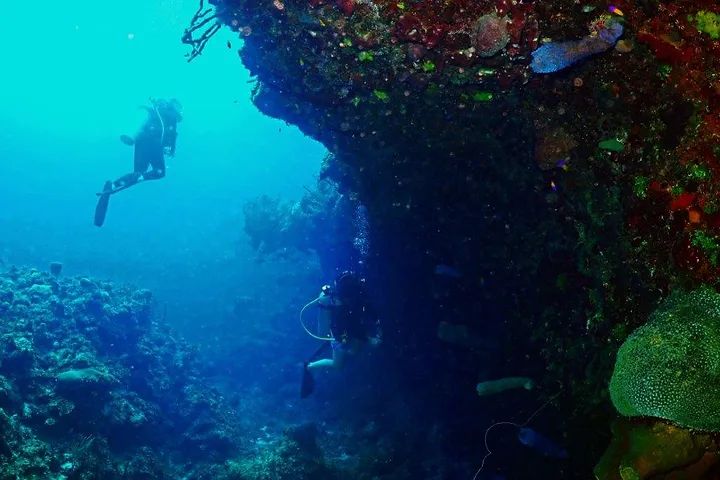 LA MESA – reef site – west
Tanuj – Dive Instructor, Sunset Divers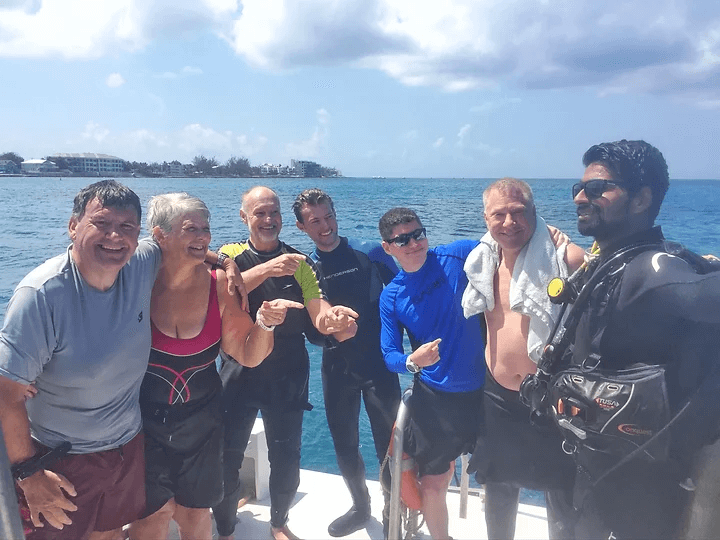 It's Spanish for The Table, although some dive professionals would see it as a mushroom shaped coral head carved out from a thousand plus year old coral structure. It is one of the shallow sites along Seven Mile Beach, suitable for all levels of diver. The currents from the relatively close, deep wall, brings in plenty of nutrients. The site hosts a variety of juvenile and small fish, which attracts schools of horse eyed jacks, barracuda and snappers.
A large crack along the side of the La Mesa coral structure is among one of the first things you will notice and here you often find spotted Caribbean lobsters hiding in the corals. Dive staff at Sunset Divers has confirmed sightings of turtles, nurse sharks, eagle rays, stingray and green morays at this site and that's why it becomes a popular spot to tick off from your list of dive sites around Grand Cayman.
SUNSET HOUSE REEF – home sweet home
Grace – Server & Diver, My Bar
Sunset House Reef is one of my favorite dive sites. There is an opportunity to see a huge variety of sea creatures.
The dive site starts with a hard-pan bottom which leads to a shallow mini wall which can be reached with easy access from shore by ladder or through the sea pool. By following the channels in the hard-pan from the sea pool you can easily reach the famous & beautiful mermaid statue 'Amphitrite' that makes the Sunset House reef so popular.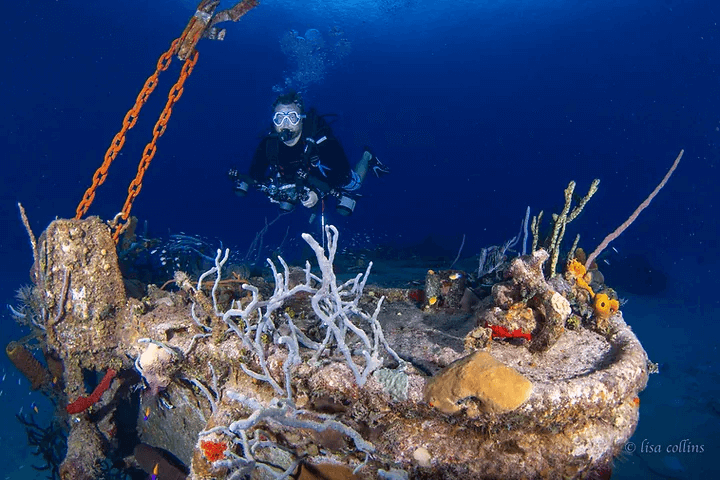 Beyond the mini wall, the site is split with a large patch of sand with coral fingers leading to the main wall drop off. On the way you will see garden eels and different colored sea slugs scattered in the sand. Just before you reach the main wall ridge you will find Sunset House reefs other attraction, the wreck of the Nicholson. This wreck is decorated with multi-colored soft corals with a beautiful array of reef fish dancing over the wreck. Here you will find my friend Frederick, a friendly snapper who will follow you anywhere.
There are so many inhabitants on the reef but some of my favorite sightings are the huge green moray eels that rest in the corals. Gorgeous spotted drums, grey, French and queen angel fish that call this place home. I often encounter large turtles, both hawksbill & green, inside the wreck and a giant king crab too….it's so cool.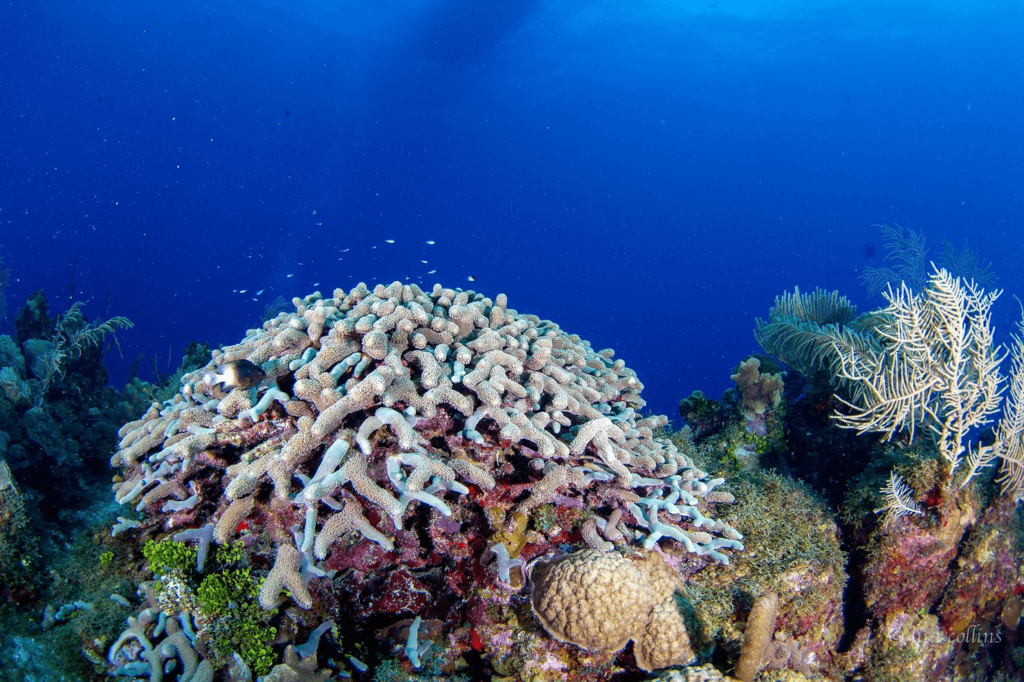 There is even a coral nursery where I witnessed the coral spawning, that really is amazing! If you enjoy diving this site by day then you are going to love diving at night too! I had many firsts on night dives on the Sunset Reef including encounters with a large octopus and my first ever seahorse (yes, they are out there). I do not have the words to explain how happy I was to see it.
Other usual reef inhabitants include colorful schooling fish, barracuda, stingrays, eagle rays, grouper & reef squid. The occasional sighting of pelagic sea life including nurse, reef & hammerhead sharks and if you are lucky a chance sighting of a Manta ray is also possible. Sunset House reef is just so magical once you dive down you will be in another world. Keep blowing bubbles!!!
BONNIE'S ARCH – shallow reef NW Point
Emma – Sales & Marketing, Sunset House
Bonnie's Arch can be found on the northwest tip of the island, all the way up in West Bay. The site earns it name from the beautiful & impressive coral arch.
A giant stride off the dive boat and you will descend right over the archway. While it looks solid, it is very fragile with a large collection of soft corals including purple gorgonians and colorful sponges along its ridge. The shape of the arch makes this dive site, one of the most photographed in Grand Cayman.
As you pass under the arch you are met with a cathedral style topography. The sandy bottom here makes way for a strange find in Cayman. What you think might be a marine reptile or a lost iguana, is actually a very realistic crocodile statue. Always a good story to add to the dive briefing!
This area is usually popular with tarpon, who have become accustomed to divers and love to pose for a photo. To me they always look sad, so I always try and brighten their day with a smile and a wave.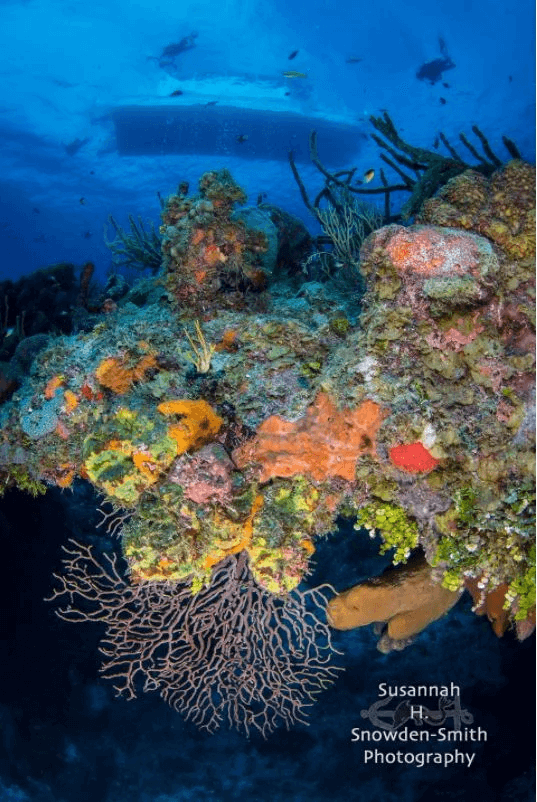 There are massive barrel sponges to be explored, some up to 8ft in diameter, just imagine how long it has taken them to reach this size, its mind boggling.
Bonnie's Arch is great for beginner divers, but because of where it is there can sometimes be a current. The Sunset Divers crew will always check first before we enter the water. As it is so shallow, it is great for snorkelers to enjoy. Moving away from the arch the is a mini wall with tongue and groove fingers leading out into the sand and eventually the main wall drop off. Always remember to look in the sand for graceful eagle rays foraging for their next meal. I also love to look for macro life, especially decorator crabs on the soft corals trying so hard to stay disguised.
Next time you are on the Sunset Divers boat ask your captain for a trip to Bonnie's Arch. It will not disappoint.
THE DOC POULSON – shallow wreck & reef – West
Lisa – Professional Underwater Photographer @ Cathy Church Photo Center
A Japanese cable laying ship, the Doc Poulson was intentionally sunk in 1981 in the western part of Grand Cayman to create an artificial reef.
Sitting upright on the white sand at 60ft, the wreck can be very easily explored and is a great place for underwater photography. Because of the relatively shallow depth and with usually little current and clear water the whole wreck can be explored at length during a dive.
The wreck is covered with different types of hard coral, yellow tube sponges, purple sea fans and soft corals. Fish-life is prolific.
The hatches have been removed so the wheelhouse and hold can be penetrated easily. Schools of fish inhabit the wheelhouse, which has a lot of sea fans and sponges growing on its exterior. The cable winches on the deck are encrusted with coral and make interesting area to explore.
Inside the hold, sand has penetrated and forms a layer on the bottom of the wreck where sand dollars can be found partially buried.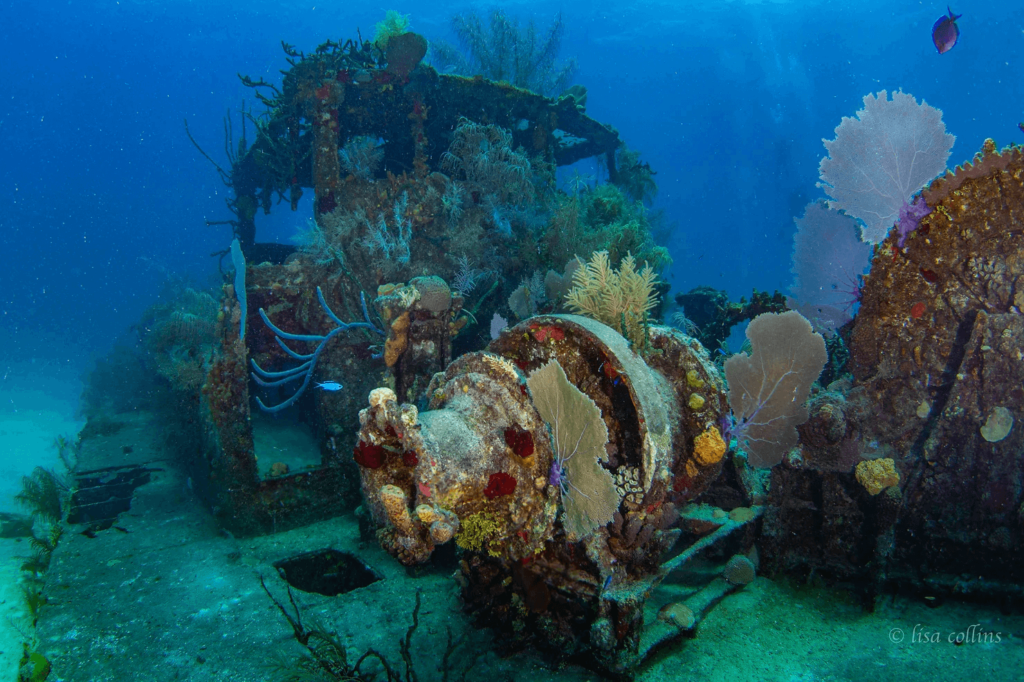 The wreck is a haven for macro as well as larger fish life. Shrimp, gobies, crabs, flamingo tongues, Christmas tree worms, feather dusters to name a few.
In the sand surrounding the wreck, stingrays are sometimes found searching for food, and large conch wend their way over the sand leaving trails. The reef is a short distance from the wreck, and can be explored during the same dive.
ARMCHAIR REEF – shallow reef – South
Maria – Professional Underwater Photographer @ Cathy Church Photo Center
This reef is located on the southwest part of Grand Cayman with a depth range of 50-60 feet. It can be accessed by boat or shore.
I learned that this dive site is called Armchair Reef because of the contour of the reef that looks like a horseshoe or an armchair, however there is another story but it is a sad one.
There used to be a huge beautiful sponge that adorned this site that was somewhat shaped like an armchair. Divers used to sit on the sponge and pose for photos. We have to remember that every time we touch any marine life, we place damage on it. However small, the cumulative and repetitive damages on any marine life places a heavy toll on them. The 'armchair' sponge is no longer exists today but the name stuck. We must be mindful and responsible as divers. It is our duty to respect and never touch any marine life, safe or venomous, friendly, or feisty.
The first time I dived this site I found this strange, funny looking sponge that I would search and visit every time I have the opportunity. When I finally mastered underwater photography, I took a photo of it and called this beautiful sponge "Grumpy Gramps". It reminded me of a spectacled grumpy old grandpa. What do you think?
The overhanging ledge is a joy to explore, sometimes you will find a nurse shark or a stingray relaxing underneath. You will also find some very large gorgonians jutting out of the ledge. Expect schooling fish like jacks and lots of macro life, shrimps and small crabs in the shelter of an anemone can be seen if you look close enough.
EAGLE RAY PASS – Wall – North
Lin – Professional Underwater Photographer @ Cathy Church Photo Center
Accessible only by boat, this is a great and popular north wall dive site.
More often than not, just a few seconds after descent, you will see an eagle-ray (more if you are lucky) or stingrays gliding across the sand heading out to the blue, towards the wall.
The mooring buoy is over a sand chute that leads to the main wall drop-off. There is also a large crack in the reef that you can pass through and exit at depth onto the vertical wall. The first time I dived through the "pass", I was super excited and forgot to take in what was all around me. Remember to take notice, as there are lobsters, groupers and other critters hiding in the gap. When you exit the pass, you will see the bluest of blue that you will ever have seen, well at least for me. It is an amazing experience to witness a fever of Eagle Rays "fly" into the blue. After cruising the wall, remember to check your air and head back towards the pin.

Sunset House & Sunset Divers offer boat trips everyday, next time the you visit make sure you ask for one of our Sunset Family favorites.
We wish you could be here right now enjoying the Resort and our beautiful island. While we still wait for our borders to re-open we would like to offer you our future travel vouchers. Buy now, check in later and save up to $250 per person. The purchase of each voucher helps our Sunset House Family today, while we wait to see you tomorrow.
Thank you all the wonderful photographers that contributed to this blog post. Please check out their links below.
Maria @mariadelasalas
Lisa @lisacollinsinonuk
Mateusz @mateusz_wrc
Susannah H Snowden-Smith Photography